HOW ONIVYDE IS GIVEN TO YOU
ONIVYDE is given in combination with 2 other medicines, fluorouracil (5-FU)
and leucovorin (LV).
If prescribed ONIVYDE, you are given ONIVYDE + 5-FU/LV by intravenous (IV)
infusion, which is when medicine is injected into your vein.
Your treatment will be given to you in an infusion center by a healthcare professional who is trained to administer chemotherapy
You'll start fluorouracil (5-FU) in an infusion center, and may be able to continue at home using a portable infusion pump
ONIVYDE + 5-FU/LV is given in 3 steps, known as a treatment
cycle, that lasts for 2 weeks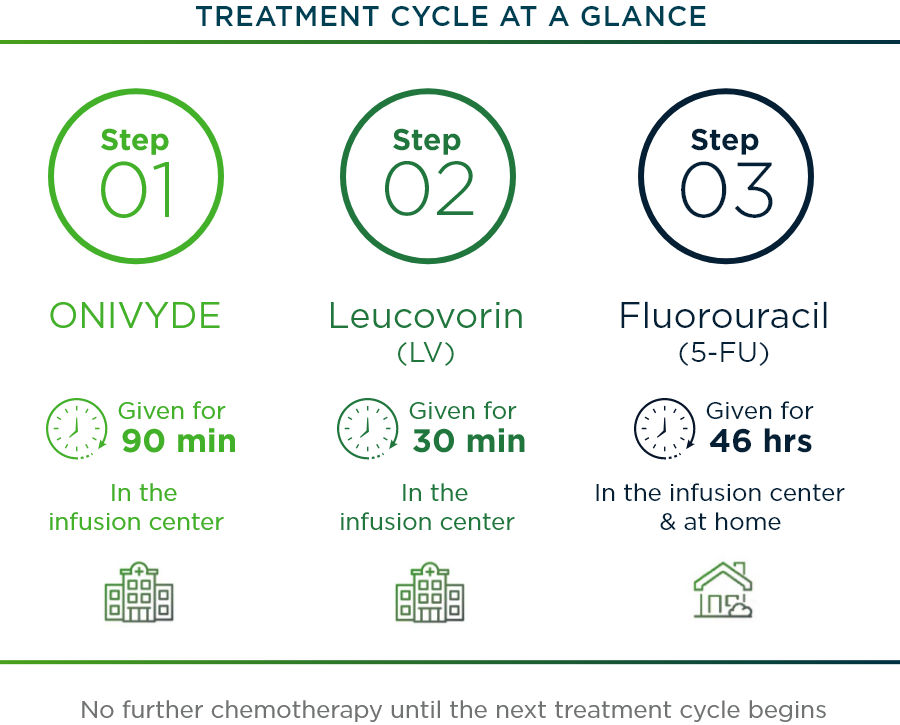 Considerations with your treatment
Before you receive ONIVYDE, your doctor may give you medicine to prevent or reduce nausea, vomiting, or diarrhea.

During your therapy, your doctor will test your blood from time to time. This is to check your white blood cell count, specifically your absolute neutrophil count (also known as ANC), to make sure you have enough of certain white blood cells (such as lymphocytes and neutrophils) that fight infection.
During your treatment with ONIVYDE + 5-FU/LV, you may experience certain side effects that can be serious. Click below to learn more about side effects.